Sports
T20 World Cup 2021 – BD vs Eng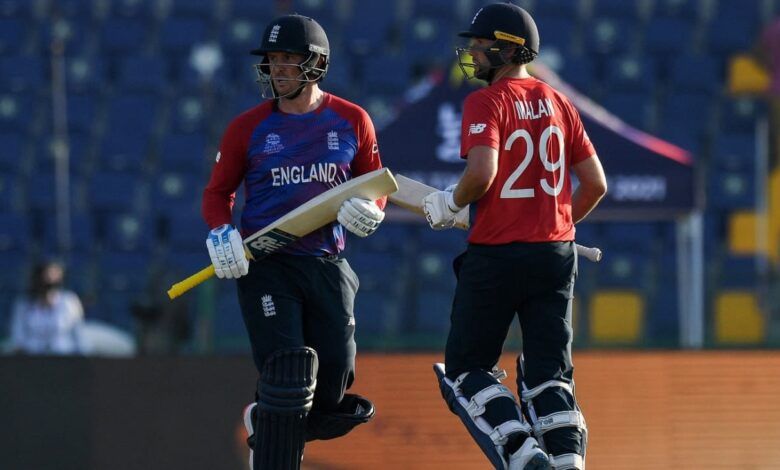 News
Roy struck Shakib Al Hasan's first ball for four on the way to a commanding 61 from 38 balls
Jason Roy
was the only batter on either side to pass 30 in England's thumping Super 12s win against Bangladesh in Abu Dhabi and credited his work in the nets facing Liam Dawson as a key factor in his success.
England had expected Bangladesh to open the bowling with left-arm spin, as many teams have against Roy and Jos Buttler over the last 18 months, and Roy set the tone for a straightforward chase by carving Shakib Al Hasan's first ball away for four through cover point. In all, he scored 21 runs from the 15 balls of left-arm spin he faced, and said that his work against Dawson – a reserve in England's squad – had been vital.
"As a batsman – as a cricketer – you always have some darker thoughts going into your mind before the game: 'what if, this can happen, this can happen'," Roy said, "but you just have to remind yourself that your training has been so good.
"I worked a hell of a lot against Liam Dawson in the nets. He's been bowling so much to me which has really helped my game. I've just got to keep reminding myself to do what I do in training, and things will be all right
"I think it's an area of my game I've been working extremely hard on, on slow pitches against left-arm spinners and the angle as such. It was a big game for me to go out there today put all the hard work I've been doing into the nets into play. Credit to the bowlers but still, to knock it off, [I'm] very pleased."
Opposing captains have often targeted Roy with spin early in his innings in recent years but his T20 record against it has gradually improved of late. In 2018 and 2019, he averaged just 17.14 against left-arm spin, with a strike rate of 134.83; since the start of last year, he has averaged 30.33 and struck at 135.82.
He was generally subdued against it after his early boundary off Shakib, knocking singles into gaps, but issued a reminder of his power game by thumping Nasum Ahmed straight back over his head for six to bring up his fifty.
"It's a part of my game that has improved a lot," Roy said. "Today was a very big test for me coming in with two left-arm spinners, two left-arm seamers and an offspinner. I had to really use all the skills I've learnt, and it seemed to work."
Eoin Morgan, England's captain, said: "It was nice for him and Dawid [Malan, who made 28 not out] to get some time at the wicket. With Jason, the way he plays is so imposing at the wicket and when you play like that on really slow wickets, it makes it very difficult to set fields and [decide] who to bowl. It's great to see him in good touch."
Roy also addressed England's decision to take a knee before the game – as they had done against West Indies – after
Quinton de Kock's controversial and last-minute withdrawal
from South Africa's side on Tuesday. England had intended to continue the 'moment of unity' that they had observed during their home summer, but opted to take a knee instead after the ICC told them that wearing their anti-discrimination t-shirts would contravene the tournament's kit regulations.
"It's an integral part of the way we play our cricket," Roy said. "Our team is extremely diverse with people from all over the world. It's only right that we support that and we support what they are going through."
Matt Roller is an assistant editor at ESPNcricinfo. @mroller98