Sports
Solheim Cup: Madelene Sagstrom unhappy over controversial ruling in fourballs defeat | Golf News

"I personally don't agree with the decision with the ball being on the edge, but I didn't follow the 10-second rule, so it sucks right now because I feel like I let my team down"; watch day two of the Solheim Cup live on Sky Sports Golf from midday on Sunday
Last Updated: 05/09/21 12:04am
An emotional Madelene Sagstrom questions the decision to award the eagle at the par-five 13th to Team USA and reflects on how the incident affected her over the remainder of the fourballs match

An emotional Madelene Sagstrom questions the decision to award the eagle at the par-five 13th to Team USA and reflects on how the incident affected her over the remainder of the fourballs match
Madelene Sagstrom was unhappy with the controversial ruling which marred the afternoon fourballs at the Solheim Cup.
The 28-year-old Swede was paired with rookie Nanna Koerstz Madsen of Denmark against American duo Nelly Korda and Ally Ewing and the scores were level when the incident occurred at the 13th hole.
Korda's eagle putt stopped on the edge of the hole, but her ball was swiftly picked up by Sagstrom, conceding a birdie.
However, Sagstrom was deemed to have not waited long enough and Korda was credited with an eagle to win the hole and move one up.
Under Rule 13.3, if any part of the ball is overhanging the lip the player is allowed a "reasonable time" to reach the hole and then 10 seconds to see if the ball would drop.
Sagstrom, Madsen and European captain Catriona Matthew argued that the ball was not going to drop in, but the ruling of the on-course official was confirmed.
The American duo then retained their lead as the final five holes were halved to win 1up, one of two American victories in the afternoon as Europe took a 5.5-2.5 advantage into Sunday.
An emotional Sagstrom said: "Obviously I wasn't following the rules about leaving the ball for 10 seconds, but I do believe in integrity and honour of the game of golf, and I would never pick up a putt that had a chance to go in.
"I personally don't agree with the decision with the ball being on the edge, but I didn't follow the 10-second rule, so it sucks right now because I feel like I let my team down.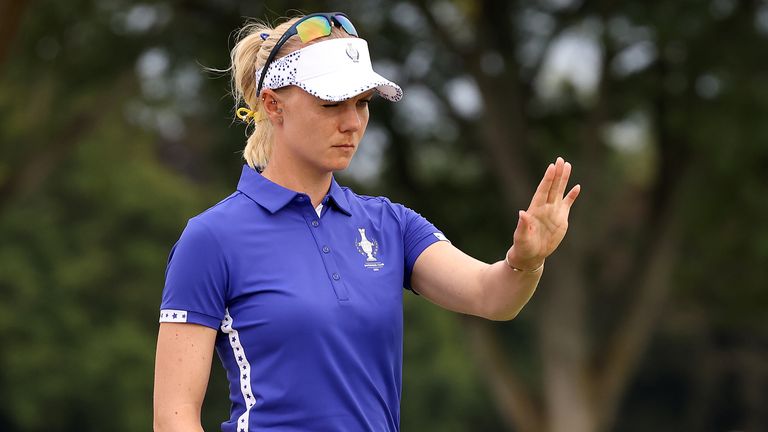 "It's hard because we're on American soil. It's tough, we're giving our all out there. We're fighting so hard. It's just sad that the game is going to be on that position really. We put up a strong fight. We played great, both of us. It's tough out there.
"It made me frustrated, angry, sad. I was just trying to keep my composure and trying to be there for Nanna. She was very encouraging and walking with me, so it was tough. It's not the first time and the last time those things are going to happen out here, unfortunately, but I was just trying to get into a groove and hit good golf shots again.
"I did hit a few really good golf shots, so I'm happy that I did that. Unfortunately, I couldn't pull a halve out at the last, but we fought hard for it. Nanna was a really good supporter. I was supposed to be there for her today being a rookie and she was there for me. We had a good team today.
"I'm happy all the girls are doing good, so I'm just going to go back, regroup, and get ready for tomorrow."
Live Solheim Cup Golf
September 5, 2021, 12:00pm
Live on
Madsen added: "It was just not fun for Madelene to be in that position. I think she felt bad, and she really shouldn't. Golf shouldn't go down to a putt that would never have gone in. She didn't do anything."
World No 1 Korda and Ewing insisted they had not had a say in the ruling.
"It was definitely awkward, and you don't want to win a hole like that," Korda said. "I got off the green, and we kind of were talking, and Missy already came up to us and was like, I'm calling it in, I want to check it out. We didn't even have a say honestly.
"We told ourselves we needed to focus on golf, take it one shot at a time, and see if we can finish it off.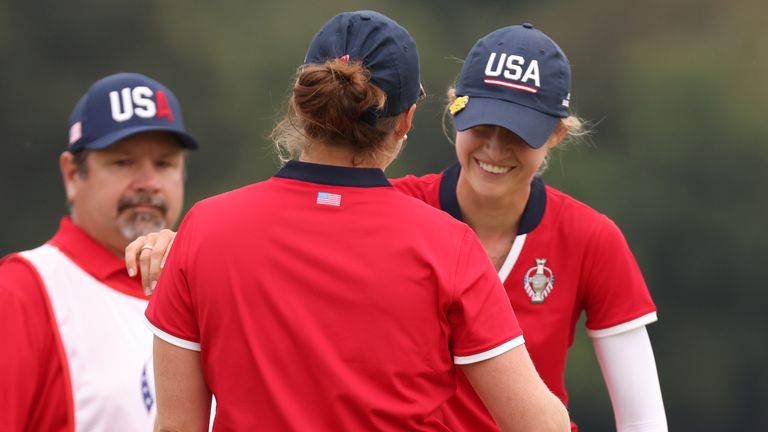 "Hopefully they're okay with us. We didn't want it to happen this way. It's very unfortunate, but they played solid golf, we also played solid golf. At the end of the day hopefully, we can put this behind each other and move forward."
Ewing added: "In the end, that was up to the rules committee, and I think they handled it the best that they could, and, like she said, nobody wants to win the hole like that."

Get the best prices and book a round at one of 1,700 courses across the UK & Ireland