Entertainment
Shae Gill wasn't too serious about music before 'Pasoori'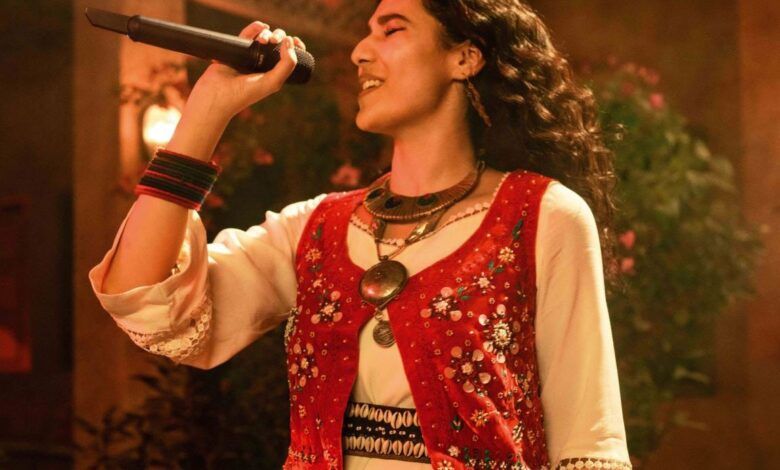 Shae Gill is perhaps 2022's most prominent breakout star in the music industry so far. The singer made waves with her widely-loved Coke Studio collaboration with Ali Sethi, Pasoori, which has been one of the most successful songs of the 14th season so far. Speaking to BBC Urdu, Shae shed light on her reaction to being offered the CS collab and how the success of Pasoori has led her to take music much more seriously as a career. 
Explaining how it took a while for her success to sink in, Shae reflected, "When Coke Studio asked me to sing for them, I just said, 'Thank you.' I wasn't excited right off the bat. I couldn't believe what had just happened. It took me a while to digest it." 
Sharing how music producer Xulfi discovered her on Instagram, the singer explained, "Coke Studio producer Zulfiqar Jabbar Khan (Xulfi) found my Instagram page and checked out my singing. He liked my songs and later contacted me via direct message, saying, 'I want you to sing for Coke Studio.' The rest is history." 
On finding out that she was being paired up with singer Ali Sethi, Shae shared, "They just said they would tell me in a few weeks who I would sing with, and when they told me I was going to be collaborating with Ali Sethi, I was very happy because I was going to get a chance to sing with him."
Speaking about her experience of working with the Chandni Raat singer, Shae explained, "It was a great experience. Often when new singers work with a great artist like him, they feel very nervous, but Ali Sethi is a very humble man. He treats me very well and has a lot of knowledge of music to share." 
Sharing how she hadn't considered music as a primary career option before, Shae revealed how that changed following Pasoori. "I wasn't too serious about music before Pasoori and Coke Studio," she explained, adding, "But, since then, I've taken it seriously and I've had so much fun with it. I want to pursue music as a career now and I plan on working hard on it." 
On how her family and friends have been ecstatic over her success, Shae commented that while she was flattered by and happy with the positive response, the expectations that come with it are a bit nerve-wracking. "Of course I'm happy, but I'm also a little scared because people's expectations are so high. My first song was released via Coke Studio, so now I'm just wondering where to go from here." She added, "There's so much more room for error now." 
People who have followed Shae's journey from before her Coke Studio offering would remember how she gained fame following her rendition of Faiz Ahmed Faiz's poetry, Aaj Bazaar Mai, that she recorded for a local publication, Womanistan.
Based in Lahore, Shae's musical career began in the hostel where she used to live together with her best friend. "We just started recording videos then and that's how Shae Gill started." The singer shared in a session with Spotify that she is easily influenced by "people who live their life passionately."
Pasoori has received praise for its catchy melody, lyrics, bohemian set and impeccable performances by the artists involved. Earlier, Ahmed Ali Butt called it "the most visually appealing song," of this CS season. Actor Adnan Siddiqui also called Ali Sethi "a maestro," adding, "but Pasoori belongs to Shae Gill." 
Ali recently detailed the making of Pasoori in a social media session, elaborating on the thought that went into creating the audio-visual treat. Sharing snippets from behind the scenes, he wrote in a post on his Instagram, "Moments from the set of Pasoori – trending since two days in a row, fastest 1M views this season, yada yada. We hadn't finished writing lyrics until 12 hours before the shoot." He even revealed that he contracted Covid-19 in the process, on set.
"But what an insanely fulfilling project from start to end. Xulfi took many risks and indulged all my fancies, I am indebted to you and so grateful. Abdullah Siddiqui, you are an absolute unicorn — I still can't fathom how you banger-ified what was just a ditty in my head? Saima Bargfrede I want your hair, Fatima Butt, I want your rings, Kamal Khan, let's make a video in Austin? And Shae, I've had a hundred people tell me you are 'the Dua Lipa of Pakistan'. You are you, and there's no one like you," he shared, almost in awe of everyone involved in the project to ensure his fans know it takes real teamwork to make any dream work."
Have something to add to the story? Share it in the comments below.