Games
Second Extinction: Research and Destroy Update Available Now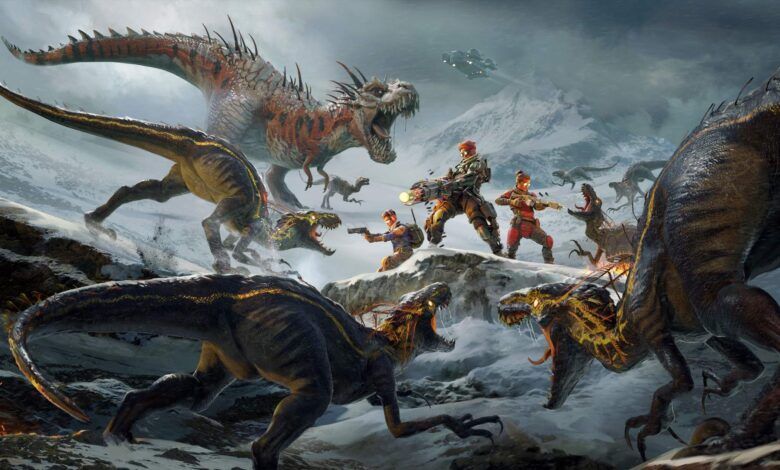 Hello there! A lot has happened since we last spoke back in April with the launch of Second Extinction on Xbox One, Xbox Series X|S, and with Xbox Game Pass. Since then we've been regularly adding content and improvements as part of our run in Game Preview. New dinos, heroes, and challenges have all been added to the game with each of our pre-seasons and it's been great seeing players and the community engage with the game as it has grown.
Our latest update though is a big one. Research and Destroy features a slew of massive features and requested content that are worth highlighting.
First up, our headliner is the new Horde Mode, a much requested addition to our game mode options. Horde Mode is a distillation of everything we believe makes Second Extinction special in a framework that shakes up the gameplay experience. Starting out armed with just a pistol, players hold out against ever escalating waves of dinos. With each kill, players earn credits allowing them to gain access to the full roster of their unlocked weapons and equipment. Survive long enough and you'll have the opportunity to extract, or keep fighting, for those with a taste for high scores and glory.
As with everything we've introduced during our Game Preview journey so far, this is our first version of the feature and will be improved on and grown through Game Preview and beyond. Seasonal Leaderboards will arrive shortly after the release of the pre-season so get your squad together and practice for the chance to prove your place amongst the ERA Elite
Speaking of getting your squad together, Research and Destroy introduces a bevy of tools that make it easier to do so. First and foremost amongst those is cross play! Opening up recruitment opportunities across all platforms Second Extinction is available on.
Alongside cross play, we're also integrating voice chat and allowing players the ability to create and advertise lobbies in the frontend, making it easier to form groups of like-minded players from across the community.
Finally we are introducing Sunetra. Our latest hero joins Amir as an operative, rounding out our character roster nicely. Sunetra's abilities allow her to use her knowledge as an expert biologist to enable her squad to pick targets apart with ruthless efficiency and mess with their behaviour to turn enemies into allies, if only temporarily.
You can also check out Sunetra, and every other heroes, available skins as part of our armory overhaul. The revamped menus now allow players to have a closer look at every available weapon, equipment and cosmetic in the game as well as information on how to acquire them in game.
With all these brand new features alongside our usual pre-seasonal delivery of cosmetics and challenges, we feel that Research and Destroy represents a huge step forward for Second Extinction and can't wait to get it out and in the hands of players. If you're excited to get more information or feel like getting involved in our lovely community of dino killers then please drop by our Discord channel and follow us on social media.

Second Extinction™ (Game Preview)
Systemic Reaction™
$24.99
Xbox One X Enhanced
PC Game Pass
Xbox Game Pass
Free Trial
This game is a work in progress. It may or may not change over time or release as a final product. Purchase only if you are comfortable with the current state of the unfinished game.

A NEW BREED OF BIG MAP MULTIPLAYER SHOOTER
The goal is simple: Reclaim earth.
In Second Extinction you take on hordes of mutated dinosaurs with up to two friends. Solo players beware: Second Extinction is designed with squads in mind. Only the strong will survive.

GAME PREVIEW IS JUST THE BEGINNING
The goal of Game Preview is also simple: Work with our community to make the best game possible.
We want to hear your feedback loud and clear, and we intend for our community to be a vital part of the development process.
Even so, there's plenty to get your teeth (and claws) into from day one: 4 heroes,
10 weapons (with 5 upgrade tiers each) and 6 missions – plus some special side quests – across multiple regions of our big map.

JOIN THE WAR EFFORT, SHAPE THE FUTURE
Our mantra is that players win battles, communities win wars. Nowhere is this more true than our War Effort feature.
Each region of our big map has a unique threat level. This threat level can be lowered if enough of our players are successful in their missions and activities. But the dinosaurs aren't resting either, and they'll focus their efforts where you aren't.
Each week the community will see the fruits of their labors or feel the consequence of their incompetence. Let the threat level get out of control and you can expect an especially tough Emergence Event to be waiting for you.

By playing Second Extinction you're not just picking up another co-op shooter.
You're joining us on a journey as we shape the experience. Every piece of feedback and every mission you play matters. So what are you waiting for? The fight to reclaim earth starts here.

Full details on the latest status of the game, how you can give feedback and report issues can be found at https://www.secondextinctiongame.com/