Sports
Recent Match Report – Notts vs Lancashire Quarter-Final 2022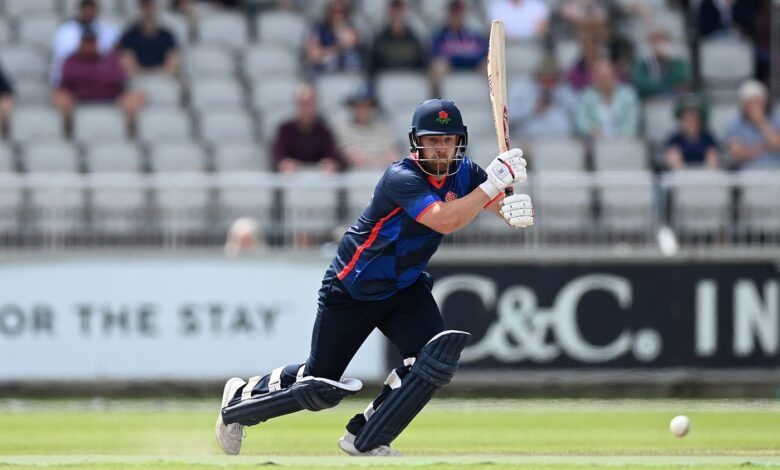 Lancashire 341 for 7 (Croft 115 not out; Hutton 3-57) beat Nottinghamshire 338 for 8 (Slater 104, Montgomery 78, Budinger 56; Lamb 3-79) by three wickets
"Anyone fancy a game in Blackpool on Friday?" It is the sort of enquiry one might hear across Lancashire these late summer days. Quite suddenly we are counting the number of matches left in the season, and club cricketers, whose days in the sun end earlier than that of their professional counterparts, are grabbing every chance they can get. But only in England, perhaps, could two sides meet when 72 hours earlier they had no idea they would be doing so or even on which ground they would be playing.
And for a while, this hastily-rearranged Royal London Cup quarter-final had the air of a pick-up match. For example, Lancashire's team had to be changed just before the toss when Rob Jones rolled his ankle very painfully during the warm-ups and had to be replaced by Jack Morley. That made things even trickier for a side already deprived of both Will Williams and Tom Bailey with back problems, and the impact of those absences was clear as Nottinghamshire's batters rattled up 339 in 50 overs.
Those runs, though, were scored on the Turnbull and Asser shirt-front on which Northants had made 370 and lost just a week ago and the reliability of the Stanley Park surface was proved once again as Lancashire chased down their target with nine balls to spare,
Steven Croft
marking his 600th appearance in all formats for the county with an unbeaten 115 and greeting his winning boundary off Dane Paterson with a spread-eagled pose of triumph that recalled Ben Stokes at Headingley three years and a day ago.
For the few hundred Lancashire supporters who reorganised their Fridays and turned up for this game, Croft's achievement lost nothing by comparison with that of Stokes. And they would not have swapped their tickets at Blackpool for five days in the Emirates Old Trafford hospitality lounge during the current Test match. For those who follow the county, this was one of those days. "At my age you don't know when your last game is going to be but I've got that mindset of just enjoying it," Croft said. "I've got plenty of years' experience and I'm just going out and enjoying the game. It seems to be working."
And it was made the more memorable because Lancashire had been 237 for 6 in the 38th over and comfortably second favourites to beat a Nottinghamshire side whose fielders were clinging on to every catch. But Blackpool is a quick-scoring ground and Croft learned to bat on it when he was nobbut a lad. In company with Danny Lamb, whose 43 contained ramps and scoops aplenty, he put on 94 in ten overs, 20 of them, including two sixes into the Park, coming off six balls from Fateh Singh. There were even five extra runs when the ball hit a helmet and Lamb's dismissal, caught by Liam Patterson-White off Brett Hutton, was merely the prelude to the game's joyful and strangely touching denouement. For all that he will be 38 in October, Croft retains a childlike joy in every Lancashire victory. This evening, most people at his home club could share it.
And yet the game had begun poorly for Lancashire. Only when George Balderson's medium pace was used in tandem with Luke Wells' spinners could they throttle Notts' glut of runs. Certainly Jack Blatherwick and Liam Hurt's opening spells hardly approximated to first-class standards and Sol Budinger tucked in as greedily as a holidaymaker getting his tea at Bentley's Fish and Chip shop. The home seamers were hit down the ground for three sixes and by the time Budinger was caught at square-leg by Wells off Balderson for a 46-ball 56 Notts had 98 runs on the board in the 15th over.
At the other end
Ben Slater
's batting had been altogether more classical, more orthodox and more refined: a touch of Lytham St Annes to counter Budinger's Blackpool if you will. His three fours off Blatherwick's opening over had been taken straight from a 1960s coaching book and Slater continued in this manner, milking Lancashire for a dozen carpeted boundaries before a cover-drive off Danny Lamb took him to a century in 117 balls. Just occasionally, Lancashire's fielding became ragged and a combination of misfields in late morning leaked another four. "What the bloody 'ell's going on?" shouted an irritated gent at the Parched Peas End. "We'll have less of that, thank you, Mr Gidney," responded an outraged steward, although I may have misheard the name.
For the most part, though, Nottinghamshire's batters needed no help. The 200 came up in the 36th over and just before he was dismissed Slater had the second-highest
List A average
in the world, an achievement better appreciated when one realises that in the course of his century he overtook Babar Azam and Virat Kohli in the list. The moment Hurt had him superbly caught by a diving Danny Lamb at mid-off for 104, the Nottinghamshire opener returned to fifth place but it had not been the worst way to celebrate his 31st birthday. Matthew Montgomery's fine 78 ensured that Haseeb Hameed's side would have over 300 to defend.
For a while Lancashire's pursuit was marked by useful contributions but nothing that took the game away from the visitors. The first six batters reached double-figures but no one managed a half-century. Dane Vilas, who is usually at his best on these occasions, made 29 but then pulled Montgomery straight to midwicket, where Hameed took a sharp catch. The important breakthrough was greeted in appropriately dramatic tones by Dave Bracegirdle on Radio Nottingham and far away in the Nottinghamshire town of Eastwood, a chap working on his allotment was pleased to hear of it, although also a trifle surprised, given that he didn't have his radio on.
George Lavelle, a hero of the Northants game, made 18 off 10 balls but was sixth out when he drove Montgomery straight to Lyndon James at long-on. Then Lamb came out to join Croft and before they knew it, the home supporters were in David Hughes and Jack Bond land, a treasured territory peopled by monochrome heroes and memories nothing can expunge.
Steven Croft's cricket has already played its part in many of these reveries but this evening he can share his triumph with Blackpool CC, whose volunteers laid on an important List A match with barely a week's notice. It little mattered that the essential infrastructure was already in place. Outground cricket is one of English cricket finest adornments – Sir Andrew Strauss probably agrees – but it takes a helluva lot of planning. Challenged to get it done in seven days, the boys and girls from Stanley Park passed a formidable test and Lancashire's four outgrounds are among its most precious assets. Steven Croft is another of them.
Paul Edwards is a freelance cricket writer. He has written for the Times, ESPNcricinfo, Wisden, Southport Visiter and other publications