Sports
Recent Match Report – Lancashire vs Sussex 2nd Semi-Final 2022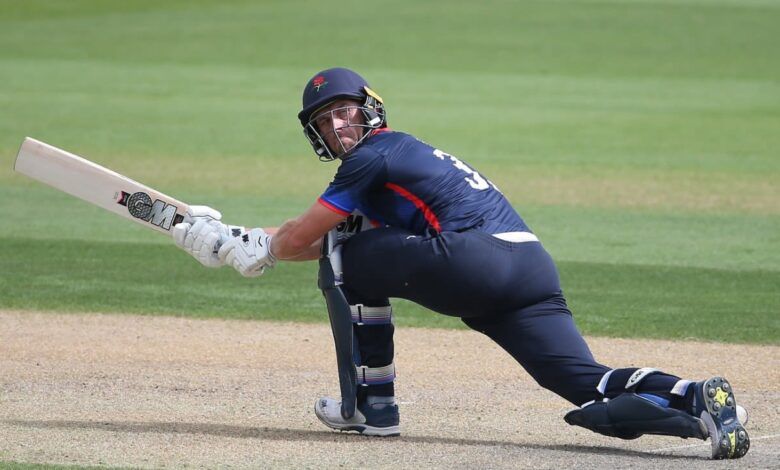 Lancashire 319 for 8 (Vilas 121, Lavelle 50, Lamb 57*, Hudson-Prentice 3-43) beat Sussex 254 (Orr 71, Haines 49, Hurt 3-43) by 65 runs
Sussex have benefited more than any county from the mass exodus of players for the Hundred, a young side gloriously gathering in confidence as August has progressed, but their challenge in the Royal London Cup was stilled at the semi-final stage at Hove by Lancashire and, in particular, by
Dane Vilas,
a county cricketer who has long been in the ranks of the grown-ups and whose 121 from 99 balls was at the heart of their 65-run triumph.
Lancashire now face Kent in the final at Trent Bridge on September 17. Half the crowd will probably be wearing
Darren Stevens face masks
but if any county can stare down his apparent swansong then it could be Lancashire, who are efficient and well captained. Vilas could adopt the role of Pliny the Elder, who pronounced as long ago as AD 77 that the idea that a dying swan sings is a nonsense.
To claim victory was quite a feat for Lancashire, who found themselves 67 for 5 at the start of the 15th over. Optimism flooded over Hove. Sussex's bowling attack is their weakest component, but remove Vilas and it felt as if the match was theirs. Instead, he effortlessly addressed the situation from the outset, strong of sinew, even stronger of mind. There was no sense of risk or rush, merely an innings that was brisk and businesslike. Even his six sixes had the feeling of appropriate punishment, magisterial in their judgment. He has served Lancashire wonderfully.
Sussex's coach James Kirtley said: "We got ourselves in a good position then Dane Vilas showed his real class. That was an outstanding one-day innings. It will be a hard defeat to accept over the next few days but it will harden them up for future semi-finals because there's a hell of a lot of talent in that dressing room."
And so, cricket traditionalists have reached the end of August, or as they may prefer to know it, the age of Lalochezia – defined as the emotional relief that a person experiences after cursing loudly and often. England's Test team has been a delight and to witness the Hundred figure out whether it wants to be seen as serious professional sport, with all the
rigorous analysis that demands
, or a superficial light entertainment show has been vaguely diverting. But for devotees of county cricket, Lalochezia has been a time of meagre returns.
Only the Royal London Cup has consoled them, a denuded competition for sure, but one where crowds have been surprisingly resilient and where spectators have at least been able to find rich consolation in witnessing the first steps of the next generation. Considering all the disadvantages, it has been highly entertaining.
But nobody knows how long it will remain as such, as county cricket adjusts to its latest redesign. The Strauss Review has produced vague initial findings intended to wed the professional game entirely to England's needs, and Rob Key, England cricket's MD, talks jollily about the need for Championship cricket in August. Everything is couched solely as "for the good of England", the need for holistic solutions forever underplayed by a desire to best serve the elite.
Sussex are reaching the end of a 60-day gap without a home Championship match. The 50-over competition has given them five days of sporadic consolation. Beaten they may have been, but they have acquitted themselves with promise. To find a player who has blossomed there is no need to look further than
Ali Orr
. Last season, he was a rangy and somewhat pedestrian Championship opening batter. This summer, he has struck 526 runs at an average of 58.44 and a strike rate of almost 100, led by a double-hundred against Somerset.
Orr deposited three sixes over midwicket with the gusto of a batter heading for the shorter formats, although one inside-edged slog against George Bailey would have rattled into leg stump if there was any justice. Sussex were on target, until Liam Hurt bowled him through the gate as he stayed leg side of the ball, just as he had gated Tom Alsop with his first delivery.
Only three players have made more runs than Orr, one of them the Indian batter,
Cheteshwar Pujara
. Pujara, who has hit three hundreds in this tournament, has skippered Sussex in the absence (until this match) of Tom Haines and he was returning to India after the match whatever the outcome.
The pressure to provide a final as a parting gift was considerable. When George Balderson's yorker had him lbw for 10, Pujara had laboured 31 deliveries and had might have been out several times. One mid-pitch collision with Hurt, a big unit, caused him to complain to the umpire and underlined his state of mind. By the time he was dismissed, the required run-rate had escalated to more than eight an over.
Haines produced a decent 49 off 59 and there was a cameo from Delray Rawlins, who hit a straight six over the media centre in a 14-ball 23 before Bailey bowled him as he whipped to leg, but it became obvious that the game departed with Pujara, a Banyan tree ripped up from English soil.
Lancashire had lost six limited-overs semi-finals since they beat Hampshire in the C&G Trophy in 2006, and it looked as if it might be seven when they lost half their side for 67.
Luke Wells was a circumspect opener at Sussex and he returned eager to parade his late-career adventure; a brief flurry of boundaries was followed by an ambitious retreat to leg which saw Bradley Currie uproot his off stump. Josh Bohannon, beaten on the drive, fell to a marginal lbw decision; Keaton Jennings was bowled off the bottom edge as he tried to pull; and Fynn Hudson-Prentice rounded up Steven Croft and George Balderson to giveaway drives of back and foot respectively.
Their innings was transformed by a sixth-wicket stand of 132 in 20 overs by Vilas and George Lavelle (50). Danny Lamb completed the repair work with 57 from 48 deliveries, with four fours and two sixes. But the hero was Vilas. He fell to a ball from Hudson-Prentice, dashing down the Hove slope, that rose steeply. But it was Vilas who bounced Sussex out of the competition.
David Hopps writes on county cricket for ESPNcricinfo @davidkhopps