Sports
Recent Match Report – Lancashire vs Surrey 2022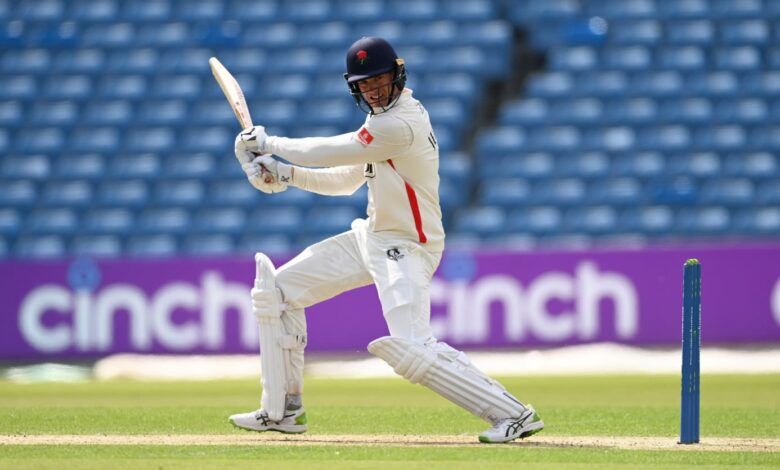 Lancashire 414 for 5 (Jennings 190*, Croft 86, Balderson 53*) vs Surrey
An unbeaten 190 from
Keaton Jennings
and half-centuries by Steven Croft and George Balderson put Lancashire firmly in control of this final LV=Insurance County Championship of the season against champions Surrey after they compiled a mammoth opening day total of 414 for 5.
Jennings' superlative knock was a timely reminder to a wider audience of his skills in front of the Sky cameras and had many speculating about an England recall for a player who is having a season to remember more than three years since he last played Test cricket.
"I'm a perfectionist so when things don't go well I am the first person to look inward and try and find a solution," he said. "But it's nice to go home and have a glass a wine or a beer with your loved ones and enjoy it rather than suffer the heartache thinking about errors you've made and bad things you've done. I've learnt to take the good with the bad and hopefully it's a skill that when its tested – and it will be – you can pull yourself out of it quite quickly.
"England is out of my control and it's not my decision to make. I feel like a different person entirely now though – it was 2018 and we've been through a global pandemic, multiple lockdowns and ups and downs from an emotional point of view. I have been through quite a bit as a person and I don't think I'm anywhere near the same player or person – hopefully in a good way.
"I've enabled myself to feel comfortable outside the game which I think is crucial – I've been enjoying my life and doing a degree and that has allowed me to try and play with a bit of happiness and freedom and not feeling like cricket is your be all and end all.
"I'm getting older and you get to a stage where you realise there's more to life than hitting a ball. I love it and treasure it but you know as a player it will end one day. That perspective comes through age, hardship and through struggle as well but at the moment I'm in a good place and hopefully that keeps going."
There had been high hopes that this clash between two of the Championship's pace-setters would have had more riding on it coming into the last week of the campaign, but Hampshire's loss to Kent ensured that Surrey had already the clinched the title by the time they arrived at Emirates Old Trafford to play third-place Lancashire.
Nevertheless, with the visitors keen to maintain their unbeaten season and the Red Rose hoping to put a disappointing trophy-less climax to 2022 behind them, there was still an edge to the first morning which was played in pleasant if cold autumnal sunshine.
Jennings and opening partner Luke Wells have been a force all season and they looked comfortable as they eased their way to a first wicket stand of 58 before Wells was brilliantly caught at short leg off the bowling of slow left-armer Dan Moriarty for 36.
Moriarty, 23, playing his first Championship match of the season, looked a real threat on a worn looking pitch and in the 29th over he produced a stunning delivery that tempted Josh Bohannon forward then back and ended up clipping the top of the batter's off stump.
Bohannon's departure for 12 brought Croft to the crease and united Lancashire's two best players this season with the score 96 for 2. For the whole of the middle session and on past tea the pair scored freely with the likes of Jamie Overton, Kemar Roach and Jordan Clarke struggling to make any impact.
Jennings reached fifty for the seventh time this season before Croft brought up his half-century from 81 balls and it was on the stoke of tea that the former made three figures for the fifth time in what has been a marvellous campaign for the former England batter who has now scored 10 centuries for Lancashire and 25 first-class hundreds overall.
It all seemed very sedate and so it was a shock when Croft, who looked to be nailed on for a third century of the season, was trapped in front attempting to sweep legspinner Cameron Steel for 86 to end the third wicket partnership at 195.
Croft's departure sparked a mini-collapse from the hosts with skipper Dane Vilas departing for 3 after top edging Steel to Ryan Patel before George Bell was unluckily caught out of his ground when Steel got the faintest of touches to a Jennings drive that flew straight into the non-striker's stumps.
While Lancashire were not exactly reeling at 304 for 5, Surrey had an opening that was quickly slammed shut by the voracious Jennings and the incoming Balderson who took the hosts through to the close at such a rate of knots that the sixth-wicket pair had put on an unbeaten stand of 110 by stumps, leaving Balderson 53 not out and Jennings on the cusp of a double-century.