Sports
Recent Match Report – Kent vs Leics Quarter-Final 2022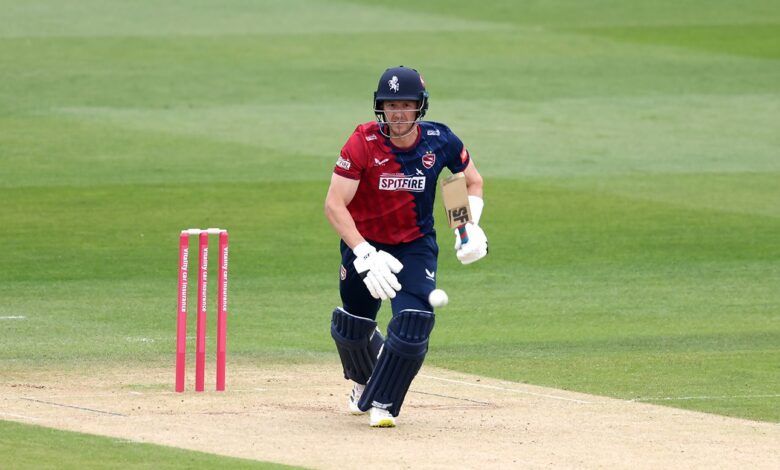 Kent 325 for 8 (Denly 65, Evison 62) beat Leicestershire 244 (Mulder 81, Steel 65, Stewart 4-42, Podmore 3-35) by 81 runs
Put those
Darren Stevens
retirement stories away for a moment because he is not quite finished yet. A return to Leicestershire, the county where his career began, felt like a fairytale ending – only he has no intention to end. Influential contributions with bat and ball gave Kent an 82-run win in this Royal London Cup play-off and now takes them to a semi-final tie against Sussex at Hove on Tuesday.
If Stevens' intervention with the bat felt entirely predictable – 41 from 24 balls with The Meet Café & Bar at deep midwicket fearing partial demolition from his wrecking ball – his bowling spell was a bonus. Ten overs in mid-innings for 37 runs felt as if Leicestershire had taken their largesse too far as he was met conservatively throughout. He had a towel down before his final over, as if determined to see the job through, and suitably somebody should have brought him out a little stool to sit on while they did it.
Grace Road is one of the quieter grounds on the circuit, even in their first home knockout tie for 11 years, but sporadic cries of "Stevo" punctuated the day, often for no specific reason. Perhaps some of them came from Leicestershire supporters who would like him to return for a final year. Coincidentally that knockout tie was also against Kent when Paul Nixon, now their head coach, made 31 in a three-wicket win. Considering the ECB's machinations, it's a toss-up who is most likely still to be around another 11 years from now – Leicestershire or Stevens.
His last ball should have been the perfect finish. Scott Steel, who fulfilled the anchor role for Leicestershire much as Ben Compton had done previously for Kent, risked a leg-side pick-up, but it fell to the 12th man, James Logan, on the half volley and trundled for four. By the time he left the field, his duties complete, Stevens' hands were still on hips in mild-mannered exasperation, but his job had been done.
Leicestershire still needed 196 from 21 at 9.33 an over at that point and even though they had seven wickets left they never really made contact with it. A flurry of runs and then Steel swung rather mindlessly at a short ball from Nathan Gilchrist to sky one straight up in the air and fall for 65 from 94 balls.
The batter who might have turned the tie for Leicestershire was Wiaan Mulder, their South African allrounder, one of the driving forces behind their play-offs place. Mulder made 81 from 71, his innings ending when he was bowled by a delivery that jagged back substantially, and low, from
Joey Evison
, who suitably is the young allrounder positioned to fill Stevens' shoes. Nobody sang "Joey" in homage, even though he had earlier made an excellent half-century, but as Stevens has already recognised, he is a player of considerable promise and can write his own tunes.
Kent's early incursions came through Harry Podmore, whose career has been so curtailed by injury that a decade after his county debut for Middlesex he was playing only his 99th match across all formats. That he was fit and firing was a considerable bonus. His first wicket was a bit of a gimme as Nicky Welch slapped him to point, but he bowled Rishi Patel and Lous Kimber with excellent deliveries that seamed back through the gate. Grant Stewart made short shrift of the tail to finish with 4 for 42.
Stevens' innings had been marked by a succession of flat bats with Ed Barnes conceding three of his four sixes, enough for Barnes to finish with undistinguished figures of 2 for 75 in eight overs. Leicestershire set two short thirds to him and appeared to have a theory, but it didn't come off. It was another South African who carried Leicestershire's fight with the ball, Beuran Hendricks, a lithe left-armer who is more slippery than he looks, the pick of their attack with 2 for 35.
Half-centuries from Evison and Compton in an opening stand of 95 in 18 overs handed Kent an initiative that they never relinquished. Evison drove Kimber from the attack with three sixes in two overs between straight and long-on before he was dismissed trying to sweep Steel; Compton, his off stump clipped by Mulder as he played defensively, made 56 from 80 balls with only four boundaries and was probably out at a perfect time, although he loves batting so might not think so. A third Kent half-century, this time from Joe Denly, kept Leicestershire at bay.
David Hopps writes on county cricket for ESPNcricinfo @davidkhopps