Sports
Recent Match Report – GG Women vs RCB Women 16th Match 2022/23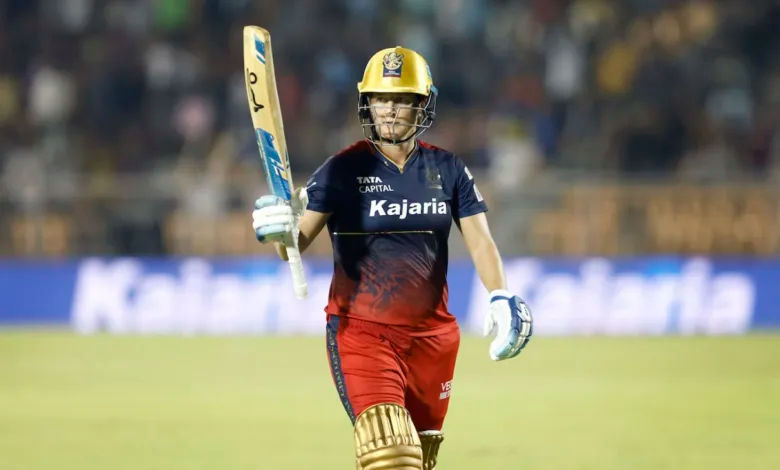 Royal Challengers Bangalore 189 for 2 (Devine 99, Mandhana 37) beat Gujarat Giants 188 for 4 (Wolvaardt 68, Gardner 41, Patil 2-17) by eight wickets
When
Sophie Devine
was growing up, she was a great drag flicker who netted penalty corners for fun in Wellington. The thrust she would impart on the ball, while picking trajectories at will, would send it screaming to different corners of the net. It was an early sign of her sporting potential.
Growing up in a multi-sport country that rewarded additional skillsets in the form of academic credits had her also take up cricket. And nearly a decade-and-a-half later, much of this brutality and early promise that was on display on the hockey field continues to mesmerise fans the world over at cricket grounds, too.
If you watched Devine's savagery on Saturday night, chances are you'd be the first to endorse it's time to rid the women's game of 48-metre boundaries with immediate effect. She wasn't just clearing them, she was tonking them into the top tiers or onto the adjacent tennis courts, some 90 metres away.
The crowd, who'd come out hoping for some fireworks, the photographers who were trying to get that perfect picture, the umpires who were at striking distance, the poor bowlers – they were all left in awe. Sixes kept flying as fast as Mumbai's Kaali Peeli taxis do along Marine Drive.
Devine hit an astounding nine fours and eight sixes in her 36-ball 99. She holed out to mid-off going for her ninth six and had to be drag herself back after falling agonisingly short of WPL's first century. Everybody in the ground stood up to applaud her. Her shell-shocked opponents were short of words as Sneh Rana later put it. Royal Challengers Bangalore are still a long way away from
qualifying for the play-offs
, but they're still alive.
Gujarat Giants, having set a formidable 189 to win, will perhaps look back and say it was just one of those nights, but their bowling line-up looked flaky all night and had few answers to Devine. Ashleigh Gardner was the first one caught in the storm. Having brought in to unsettle Smriti Mandhana, who had been out five times to offspin this WPL, she conceded 24 off her first over as Devine took her for a sequence of 0, 6, 4, 4, 6, 4 to set the tone for Royal Challengers's reply. They waltzed to 77 for 0 in the powerplay.
Devine raised her half-century off just 20 balls and then took her innings into orbit. Once Giants realised pace on the ball wasn't working, they tried to slow it down. Devine, who spoke of "being in a zone", wasn't going to die wondering. Enter her quick feet and long levers and the ball was repeatedly tossed into the club house. The pose that she held while following the trajectory of the ball told you how much she enjoyed it.
It wasn't just Devine who enjoyed it, though.
"There are few people who can do what she did tonight, but she's been doing it consistently for years and what she did tonight was special," Ellyse Perry told Sports 18 after the match. "To be fair, that last shot where she got out typifies Sophie. It's not about runs for her but playing for the team.
"To be going for a big shot on 99 when cover was open for a single, it speaks volumes to her character as a person. It was a special chase led by Sophie, it was fun to be a part of and it has kept us in the competition. I don't know if Sophie can express to us what she is capable of. She's got the quickest hands and has a good stable base where she gets her power from."
That stablility stems from her trusting her technique and not basing her game on second-guessing what's coming. Much of it is instinctive; she derives that confidence from her innate ability to have different options for similar deliveries. She can club a length ball through midwicket and flat bat a similar delivery over the bowler's head for six. It's this range that she accesses that makes her a dangerous proposition, more so on surfaces with good bounce and carry.
"Sometimes the best thing for me is I don't have game plan," Devine said as she tried to breakdown the events later. "When you're chasing 180-190, you have to go hard. When I got a couple away, I thought it was time, it was a combination of freedom and determination to stay in since I've thrown my wicket away a couple of times.
"Cricket can be so fickle. I've been struggling for six to nine months, if I have to be completely honest. To have some freedom on these wickets was good. It's also been good to trust myself and free my hands up. Our batting coach RX Murali challenged me to bat a long time, so it was nice to score some runs tonight."
The "some runs" may have well delivered a blockbuster that will be etched in WPL folklore. The knock came at a time when you thought it would have been hard to top Laura Wolvaardt's surgical precision and Gardner's monstrous six-hitting.
"I'm so used to hearing chants for Perry and Mandhana, and was feeling a bit left out," Devine chuckled. "To hear your name and experience this atmosphere, it will stay with me for a very long time."
This much is certain. Devine isn't going to be the only one to remember this knock for long. And Mandhana wasn't the only one yearning for popcorn while enjoying the Sophie Devine show.
Shashank Kishore is a senior sub-editor at ESPNcricinfo