Automobiles
"Mark X 300G Converted Into A Lexus IS350" – Owner Review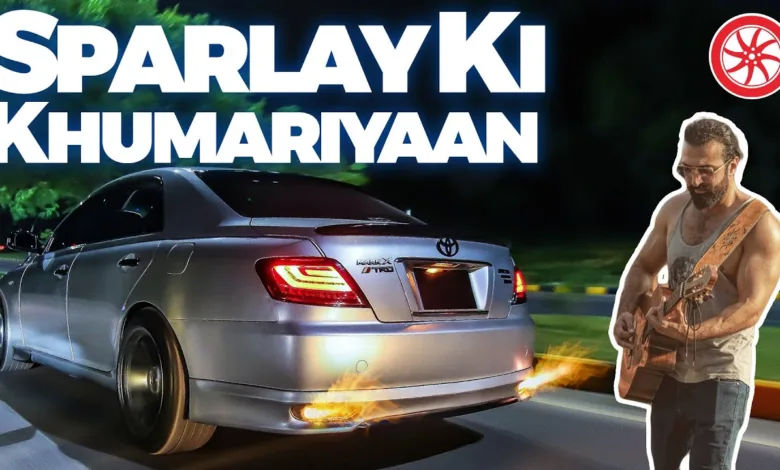 Today we're back with the owner's review of Sparlay's Toyota Mark X. Although we have reviewed many Mark X models, this car stands out mainly because of its level of modification. The Mark X came out in 2004, this particular car is a 2005 300g premium variant that is fully specced, and the owner bought it three years ago for 2 million rupees.
It originally came with a 3GR engine, a 3.0 liter V6, although this car is not just a standard Mark X but a Lexus IS350 with a mark X shell. Let's find out what modifications have been done to it and the owner's experience so far.
Performance Upgrades
Starting with the mechanical upgrades, the car is firstly fitted with a 2GR-FE engine which is a 3.5-liter V6 engine currently producing around 350 hp; it is also fitted with a free-flow exhaust system with free-flow mufflers, all custom-made. Moreover, it has a custom intake; the ECU is also tuned to improve power figures.
Being a rear-wheel drive, we have seen many instances with the Mark X tailing out and losing traction, so the owner has fitted it with a 1.5 limited slip differential (LSD), which is made by TRD and helps control the traction and provides better braking stability. Along with increasing the power, the owner has also installed bigger brakes from the IS350 with four-pot brake calipers.
All these modifications are done after thorough research, and all parts are compatible with the Mark X resulting in no malfunctions or engine check lights, so the car is reliable and driven daily by the owner.
Fuel Average
According to the owner," this is a stock Mark X with 350 HP". Due to the precise modifications, the car does not compromise on fuel average, maybe because of the larger displacement engine. The owner gets nine km/l within the city and around 11 to 12 km/l on the highways, which is very impressive for a car of this power.
Exterior
The car's exterior also upgrades, starting with 19-inch alloys with wide tyres for better grip. The front end features a carbon dipped front drill, a drift style bonnet, a modellista front bumper extension, side skirts that come in international variants, aftermarket LED tail lights, rear bumper lip, and all the chrome has been blacked out. The car is in its original paint colour and stock height.
Interior
The interior is stock with minor mods, including a Lexus steering wheel with its original airbag and paddle shifters. Moreover, interior trims are carbon fiber wrapped, which the owner got pre-cut from China. Besides that, the car has quite a few features being a 300g premium, including traction control, front electric seats with lumbar support, automatic rear shade, 6 CD changers, roof lights, and everything that is functional.
Maintenance
Despite a number of modifications, there is no extra maintenance besides oil and filter replacement. The owner uses Liqui Moly 10w40 oil and changes at an interval of 8000 km while the oil filter is changed every 4000 km. The average maintenance cost is about 14 to 15000 rupees, which is not bad.
Watch Video