Entertainment
Imam Hamdani's 'Solitude' is a reservoir of emotions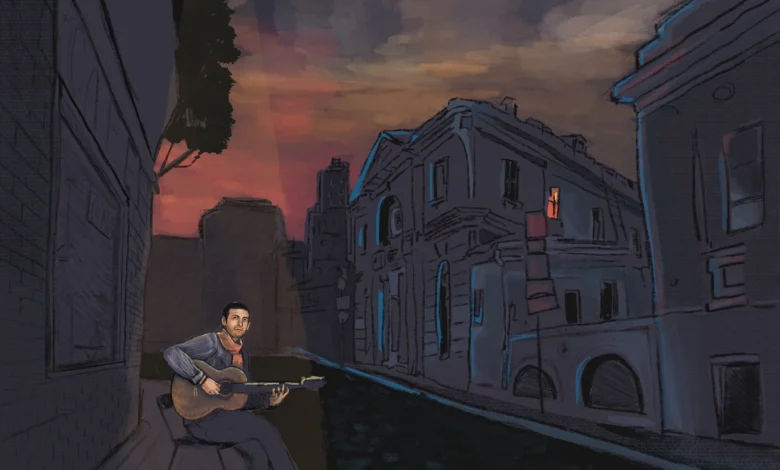 KARACHI:

Guitarist, composer and brains behind the eclectic global music ensemble Imam Collective, Imam Hamdani has come a long way from performing soft-pop music at underground venues in Karachi to meddling with Indian Classical Music under the tutelage of maestros like Ustad Alam Khan at the Ali Akbar College of Music in California.
The musician, who had moved to Boston to study composition and production at Berklee before finding his calling in sounds that hit closer to home, came out with an EP in August in collaboration with sarod player Manik Khan, son of legendary sarod whiz, Ustad Ali Akbar Khan.
Exploring West African and Indian Classical Music, their ensemble, titled Solitude, is nothing short of breathtaking, with its explorative genius combining lush guitars and sarod. Imam and Manik have churned out three songs, each capable of entertaining various emotions and distinctive of their mastery over their respective instruments. But most importantly, Solitude is a testament to Imam's evolution as a musician and more so as a creative who's evidently not willing to settle down.
Alone and liberated
"The thing about Imam Collective is that it doesn't tie me to a specific set of musicians. Whatever musical phase I'm in, in my life, I can incorporate that into Imam Collective," the artist shared with The Express Tribune. Much like Solitude, Imam's journey evokes a sense of loneliness, longing, and liberation, all of which allow one to detach themselves from the chains that bind art to genres and places.
"I was born in Lahore but my musical journey began in Karachi, playing sessions for Sara Haider and Zoe Viccaji. Growing up, I always looked up to western artists, so once I moved to the US, I got into the blues scene. I felt, what you can call, an identity crisis. Because I soon realised that I've been playing all this music but it's never 100% gratifying. I felt there was something missing from my own development as a musician," Imam reflected.
It wasn't until Imam visited New York and witnessed the Brooklyn Raga Massive (BRM) – a prolific artist collective dedicated to creating cross-cultural understanding through the lens of Indian Classical Music – that he understood what he really wanted to do. "Ustads in Pakistan are so inaccessible. But these people were just up there, a sitar player, a tabla player, you name it, and they were all having the time of their life."
Upon meeting Ustad Alam Khan, son of Ustad Ali Akbar Khan from the Maihar gharana of India, Imam moved to California. "Gharanas have this tradition of passing down music, as opposed to extending it to the world. But Ustad Ali Akbar Khan had opened this school in San Francisco to bestow it to anyone willing to learn. And it was only when I started studying under Ustad Alam that I met his younger brother, Manik. Him and I really hit it off."
Imam worked on Solitude with Manik during the lockdown, and the EP led to a transformation in himself. "This was back in July 2019 when everything went into lockdown. If I was in Pakistan, I would still been surrounded by family. But I don't think I've ever been as alone as I became here. After the panic died down, I realised how empowering this seclusion can be. Because we couldn't get musicians to come together under one roof, I ended up learning this style of playing that I've incorporated in Solitude – playing everything on one instrument. Derek Gripper and Ali Farka Touré became my influences," Imam stated.
About how well his latest outing would do among youngsters, especially those still spellbound by Western music back home, Imam admitted, "Frankly, I wouldn't have been able to make Solitude without studying Western music myself. There's a whole section of the population that doesn't listen to South Asian classical music, including many of my friends, but while such form of music can be hours long due to its progressive nature, I cut Solitude short. I really wanted to make something that everyone can connect with. I did have an audience in mind. I wanted to compose and arrange these songs in a way that people who listen to classical and people who don't listen to classical can both enjoy."
Slow-cooked to perfection
Solitude's title track is a dance between the guitar and sarod. Slow strumming of the prior with murmurs of the latter culminate into a meditative experience. The five-minute track is progressive without seeming rushed or directionless. It picks at feeling carefully tucked away without complicating things and heals every wound.
The second track, Ebb and Flow, has a flavour of its own. Manik takes the lead in this one with his sarod while Imam adds to the instrument's melodic glory with the guitar. It is romantic but not the cheesy kind. Reminiscent of rain in Lahore, street food, and all things fun and giddy, the track is short, sweet and playful. Slow plucking of the guitar backed by humming of the sarod makes the third track, Lullaby, a divine experience. This one's for the loners, the wanderers, the daydreamers.
All in all, Solitude is slow-cooked to perfection, an organised rebellion of sorts for the recluse demanding to stay indoors without caving into pressures of a fast-paced life. It is a mood-lifter, despite being grounded. And a means to escape from everyday life.