Sports
ICC Cricket World Cup 2023 – Aaron Finch feels Australia's body language on the field 'quite flat'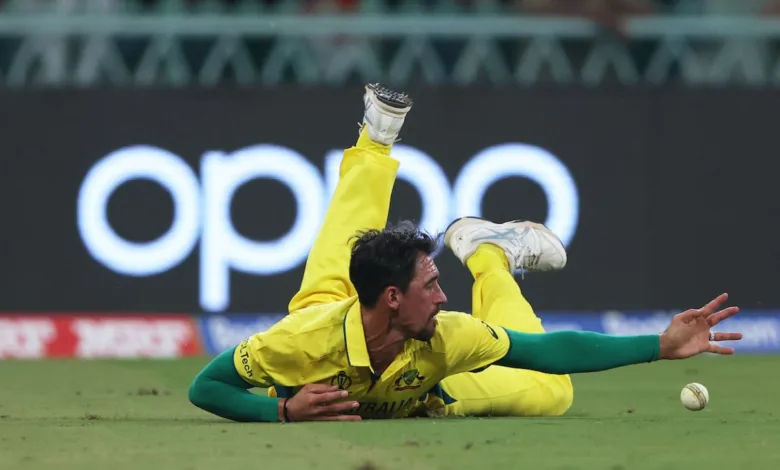 Former captain
Aaron Finch
has termed Australia as having looked "flat" in the field during their poor start to the World Cup which has brought heavy defeats against India and South Africa but could understand their reasoning behind the surprise decision to drop Alex Carey after just one game.
Australia began with a
six-wicket defeat
against India, although they did reduce the hosts to 2 for 3 then dropped Virat Kohli early in his innings, before that was followed by an even more
comprehensive loss to South Africa
in Lucknow which included six missed chances of varying difficulty and being bowled out for 177.
"The body language on the field is quite flat at the moment from Australia," Finch, who was Australia's white-ball captain less than a year ago, told ESPNcricinfo's Match Day show. "Even with the ball, they are a bit standoffish, they are waiting for things to happen and that can become contagious among the group as well.
"The last thing you want to do is start the tournament poorly because there's no way to get yourself back into it. It's been a tough start…two games where you say if we break even, win one lose one, we are okay with that, then it's a bit of a softer run home compared especially with India first up.
"The tone was set early on and it hasn't recovered yet. They need a way to freshen up, mentally and physically, because it's been a gruelling lead-up with
five ODIs in South Africa
, three T20s, come to India and play
three ODIs
then two warm-up matches when they only had 11 fit players. One-day cricket, physically, takes quite a bit out of you."
After the loss to India, Australia made two changes for the game against South Africa. The omission of Cameron Green in favour of Marcus Stoinis had been expected from a few days out, but the decision to replace Carey with Josh Inglis was greeted by widespread surprise when the team sheets dropped on Thursday.
"Don't think there's any panic," Finch said. "If you look at the stats, Alex Carey's last 10 games, [there are] seven scores under 10. It just looks like he's been a little bit frantic when he's got the crease, there hasn't been a real pattern to the way he's gone about his innings.
"Think going into the warm-up games they were still confident he could come good, then to miss out in the first game to [Ravindra] Jadeja, a decent ball around the wicket, but you should be able to keep that out at least. It's a harsh selection, but there is some justification behind it."
" If they [Australia] can just get away from the game for a day or so, recharge their own batteries physically and mentally, and find a way to forget about the game…you can get a bit more of a balanced view on how you are going personally and what you change tactically"

Aaron Finch
Australia's poor start to the tournament is turning the spotlight on current captain
Pat Cummins
, but Finch argued that some of the calls he's had to make have been borderline and again turned the spotlight on the team's broader presence in the field.
"Australia haven't bowled poorly," Finch said. "Tactically, could Pat have stretched it a bit more in that first game and went Hazlewood one more and Starc one more, really tried to blow the partnership open of KL [Rahul] and Virat, that's debatable. There'll be some that say yes, some that no. I would probably have looked to do it because defending 200 you know the game isn't going to go 50 overs.
"The only difference I noticed in the field was the South African fielders were really tight in the ring…they were all hustling in. I know the batters felt a lot of pressure because they couldn't get off strike. On the flip side, Australia has been very standoffish, they have been hanging back on the ring, and it just allowed South Africa's new batters to get into their innings. Maybe that's more a mindset change more than anything tactical."
Meanwhile, former Australia allrounder Shane Watson also questioned the team's attitude in the field during their opening two matches.
"The thing that stands out to me the most, really, is that it just doesn't seem right now like the Aussie team is desperate enough to really put it all on the line," Watson told ESPNcricinfo. "There's moments when they are fully engaged with the game and desperate to have an impact, but there's other times when they seem to be cruising through. In a World Cup, you cannot have periods of time where you're cruising. Every individual needs to be fully engaged, every single ball, to try and make their mark on the game. It was just a bit too cruisy at times."
Watson was more taken aback by the decision to axe Carey after just one match with the selectors having backed him throughout the lead-up along with what he produced at the 2019 World Cup in England where he averaged 62.50.
"When I heard there were two changes, I was racking my brain: who would be that second change, after Stoinis coming in?" Watson said. "I wasn't expecting Alex Carey to be dropped after one game of a World Cup. Yes, he's had a lean run for a while, but having one game against India on a really challenging batting track, I thought that was really harsh.
"Four years is a long time but, gosh, Alex Carey played incredibly well in the last World Cup when Australia were in some really bad situations with the bat. He came good. From that perspective, knowing that [Josh] Inglis hasn't played a World Cup before and knowing how Alex Carey reacts in pressure situations – like we saw in the last World Cup – I was very surprised they didn't stick with him for a bit longer. It was cut-throat."
But despite the poor start to the tournament, which has left Australia ninth after two games ahead of their clash against Sri Lanka in Lucknow on Monday, Finch retained belief in his former team-mates.
"There's so much quality in that side," he said. "If they can just get away from the game for a day or so, recharge their own batteries physically and mentally, and find a way to forget about the game. When that happens you tend to be able to see the game a little bit from afar and remove yourself from the cauldron. You can get a bit of more of a balanced view on how you are going personally and what you change tactically, because technically it's so hard to change anything on such short notice."
With inputs from Matt Roller
Andrew McGlashan is a deputy editor at ESPNcricinfo