Sports
'I believe I can do it'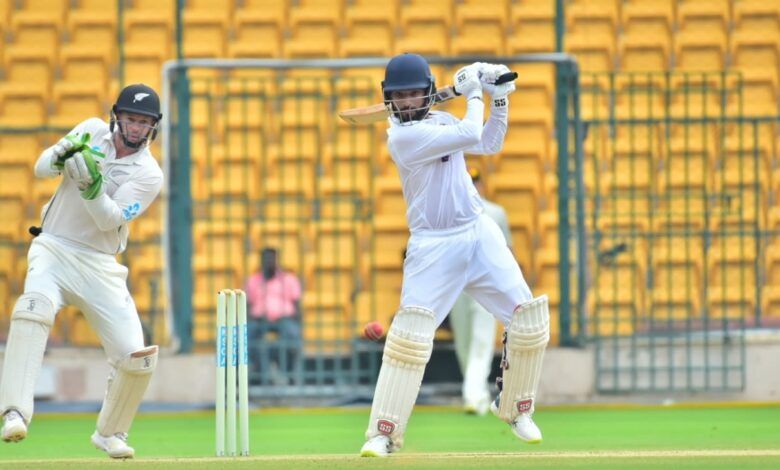 Rajat Patidar
's scores in his last few innings, across formats and tournaments, suggests that he is in the middle of a dream run. An unbeaten 170, with the promise of more to come, for India A against New Zealand A in Bengaluru is just the latest.
"It's all a mental thing and is different for every individual. If you have the ability to play all three formats, then you can play it," Patidar said after pushing India A 92 runs ahead of the visitors' first-innings score of 400. "I believe I can do it. You must know how to switch between red- and white-ball cricket. So if I have to do well in red-ball cricket, I need to understand its parameters – like the change in bat speed, which is pretty high in T20 cricket. So, overall, it's a mental thing. Depends on how you look at it."
Switching between formats isn't easy. This year, for example, players have had to move from the first leg of the Ranji Trophy in February-March to the IPL in April-May, and to the second leg of Ranji Trophy in June. Patidar has managed to maintain his touch.
Before he packed his bags for IPL 2022, Patidar had scored 335 runs at an average of 83.75 in the group stage of the Ranji Trophy. He then cracked 333 runs at 55.50, including a century and two fifties, in the IPL. On his return to Ranji Trophy, he got another 323 runs in five innings. Just over two months later, he stands just 30 short of what could be a first first-class double hundred.
With the long-form games arriving rather quickly after the T20s, Patidar too made slight adjustments to suit the "situation and the scenario".
"Technique matters a lot in red-ball cricket. For example, when facing fast bowling, you need to avoid playing on the rise," he said. "I usually go for an on-the-rise cover drive, like it is done in white-ball cricket. But you need to realise which shots you need to play and which ones to avoid in red-ball cricket, which is played with a straight bat.
"One of my strengths is the straight drive, and so I try and play with a straight bat and from close to my body in red-ball cricket."
He has had a bit of luck along the way too.
A few days after the IPL got underway,
Luvnith Sisodia
picked up an injury, which led to Royal Challengers signing Patidar; and not long after that,
Anuj Rawat
's dip in form paved way for Patidar's inclusion in the playing XI.
On Saturday,
Robert O'Donnell
dropped Patidar when he was on 13, and he batted on, and on.
Patidar displayed a wide array of shots throughout the third day's play in Bengaluru. He was especially comfortable against pace, with his strike rate against quick bowlers nearly 78. Patidar added 104 runs with
Abhimanyu Easwaran
for the third wicket and has already posted an undefeated 167 runs with
Tilak Varma
for the fifth.
Chetan Sharma has been in the stands but Patidar insisted that a national call-up was not on his mind.
"I don't think about the future a lot as to what I must do in the coming seasons, or that I may get a chance to bat higher up, etc," he said. "These have never crossed my mind – and never will either – as I just enjoy my batting and my shots. I don't think about what is not in my hands."