Sports
How KS Bharat redefined his 'whole strategy' to turn around his T20 career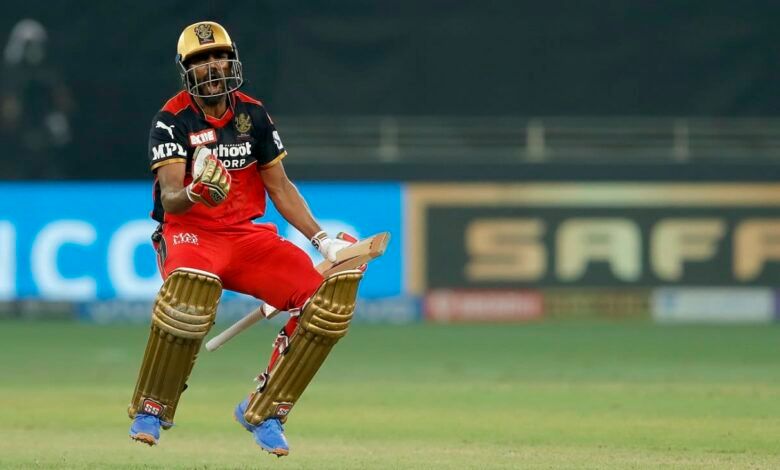 When Royal Challengers Bangalore bought KS Bharat for his base price of INR 20 lakh at the IPL 2021 auction, his T20 batting stats weren't too flashy: an average of 17.80 at a strike rate of 106.10 in 48 games. He had been a more than competent wicketkeeper in domestic cricket and for India A, even spending time with the national squad, but seemingly, his game was not built for the heat of the shortest format.
That was only at first glance, because the Bharat of the last two seasons has been radically different to the one before. The Royal Challengers' scouting team, led by former Tamil Nadu spinner Malolan Rangarajan, knew what they were getting with Bharat: an excellent wicketkeeper and a batter who wouldn't be out of place in T20s. Bharat showed glimpses of his development in the UAE leg of the IPL, and his selection was vindicated in style when he sealed victory with a last-ball six against Delhi Capitals, the crowning moment in an innings of 78* off 52.
What Royal Challengers must have seen is not Bharat's overall T20 record, but what he had done since the 2019-20 season. Before that, he was averaging just 14.74 at a strike rate of 91.95, this despite more than two-thirds of his innings as an opener. Since the 2019-20 season, including his tour de force against Capitals, Bharat's been averaging 32.50 at a strike rate of 137.46 – and this despite batting in the middle order in T20 cricket's most demanding league for nearly half of those matches.
What turned things around for Bharat was a greater game-awareness and living out the 'make haste, slowly' maxim in T20 cricket. "It was basically the game I was working on," he said the day after his match-winning 78*. "I was trying to know what my strengths and weaknesses are. As you said, 2018-19 I was just going in with an intent of attacking every ball. But then I redefined my whole strategy, that you can't just go bang-bang at every ball. You have to take your time, work out the angles, the opponents, the running between the wickets. There are so many different areas which I've been working on over a period of time, and it really paid off at a big platform."
His innings and last-ball six got captain Virat Kohli gushing too. "He said, 'Incredible effort. It is definitely a special moment for you, enjoy it.' He was overwhelmed it went for a six and we won the game," smiled Bharat.
At Royal Challengers, Bharat has been able to watch how Kohli, AB de Villiers and Glenn Maxwell go about their business, and he has learned. But not by asking them about the nuts and bolts of batting. He's learned by observing.
"To be honest, I'm a kind of guy who likes to watch and learn a lot," Bharat said. "So it wasn't about going up to them and asking them how to finish a game, but in fact watching and learning from them. I've always watched their routines, the intent they get to the game. I've always been a keen observer of people doing good things on the field. When the moment is right, when everything aligns, you end up doing well. I'm fortunate I pulled that game off."
While his innings against Capitals led many to anoint Bharat as the fixed candidate for the No. 3 slot, Bharat showed a good grasp of the fluid nature of T20 cricket when he said batting orders at Royal Challengers aren't fixed.
"I don't think we'd be knowing at what number we'd be batting in a particular game, because it's all random and the team makes a call on that," he said. Random, of course, is unlikely to be the nature of how batting spots are decided, but it'll do as an umbrella term for the team taking a call based on the nature of the surface, the point of entry of the batter and the opposition's bowling plans.
"Clarity is always there. It's to get busy wherever you go, to deliver it for the team. Balls [remaining] don't matter, which number you bat at doesn't matter – as long as you are looking to play according to the team's role and situation. When you walk in you know what are the runs on the board and how you want to go about that particular game.
"We always focus on getting those mini partnerships. It can be AB getting those boundaries, or it can be KS or it can be Virat bhai, or anyone in the team… we all are built to win games. It's not just one or two individuals who are looking to finish the game. We are very clear about it. Whoever walks in, walks in with purpose."
And the fact that his strike rate could still be below-par in some innings is not something Bharat beats himself up over. "When you bat, you really don't look at all these stats, because you watch the ball and you play the ball. For me, I don't really think of strike rate as long as you're winning and your contribution is helping the team cross the line. Strike rates are sometimes important when you're chasing, but if you're in the game you automatically know how much to hit, when to hit, when to take a calculated risk."
It has helped that the team management has given him the sort of backing any newcomer would love to have.
"Here at the RCB, the management backs each and everyone as they back Virat, AB and Maxwell," Bharat said. "As a youngster, if you are walking in and you're getting that kind of treatment, it gives immense confidence for you to go out there and do your best."
Royal Challengers picked Bharat in the auction because they saw value in him. What they also did was strengthen his resolve. "That day itself I decided that I have to give this team whatever I've got. After that I worked on my game even harder to be here. They have trusted me, so it's time for me to do what I know to do the best and help them. It's mutual respect when you play for a badge and the badge cares about you and you care for the badge."
Saurabh Somani is an assistant editor at ESPNcricinfo