Travel
Haridwar – The story of holy dip – Live Life & Travel More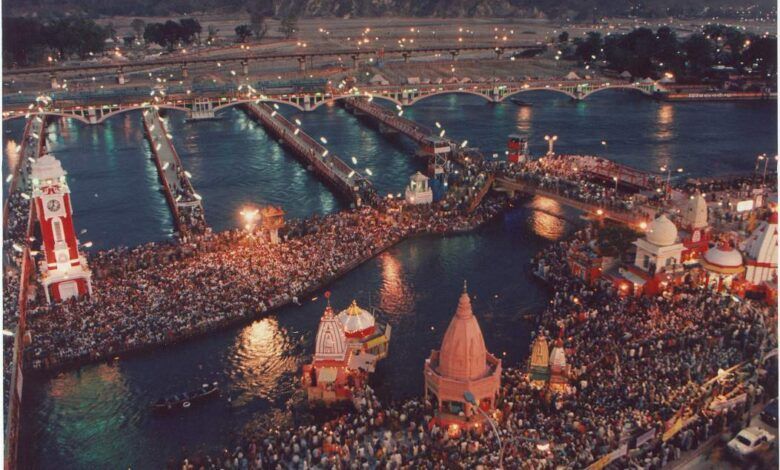 After the birth of the universe, there are lots of changes happened in the world, lots of Civilizations flourished and they were destroyed. There were lots of villages flourished and somehow they were destroyed too. Troy and Sparta cultures are also disappeared. Time Mandet every civilizations and villages for change. The gale of time is proof that many cultures changed or destroyed But still there is few cultures or villages who faced the situation and still lived. They did not let their culture, identity and existence fade away. Haridwar Is one of the place who faced every harsh situations and still exist In India.
It's Approx 200 KM away from the capital of India Delhi. This is Holy pilgrimage of Hindu culture situated Near holy river GANGA. It has become a focal point of mythology from a very long time. Meritorious Hindu Followers come here for To dive in Ganga River. Here is also KUMBH festival also, and at that time the Hindu followers presence become very huge. Probably no one knows since when these rituals started and how did this place become so important for Hindu followers.
There is story that King Sagara of Ishvaku dynasty left the horse of Ashwamegh Yagna, then Indra stole it and tied it in Kapil Muni's hermitage. This ashram was located in Haridwar and the sons of King Sagara were cinder by Kapil Muni in Haridwar itself. So when Sagar's great-grandson bhagirath meditated to bring Ganga to earth then first he bought Ganga in Haridwar because he wants to the salvation of Sagara's sons who died. That's why Sagar's sons were first on earth who got the salvation from the holy water of Ganga and since then the tradition of bone immersion started.
After the churning of the sea, when the nectar came out of the sea, there was a dispute between the demons and gods to drink it. Devraj Indra's son Jayant took the form of a crow and flew away with the nectar. Jayant took a rest on 4 places so they become a holy and Haridwar is one of them And every Hindus who believe in this truth coming here for the holy shower. In every 12 years, people celebrate Maha Kumbh in Haridwar and everyone comes here for a holy shower in Ganga. Around 2 to 3 Cr people come here at the time of Maha Kumbh. Because of the uniqueness of place, rituals, and Ganga river this place becomes the most powerful in everyone's eyes. From Maurya era, Ganga is the holy river and every India's and every Hindu People playing rituals on Ganga. In the time of king Samudragupta of India, around in 350 AD canal was built in the Ganges for the convenience of the people. Even today, that canal passes through Har ki Pauri or Brahmakund.
After that, his son king Chandragupta built a pier on the banks of this canal or built the steps for the ghat near Brahmakund, After that it was rebuilt many times. Har ki Pauri is the most important place in Haridwar for everyone. There is Brahmakund near Har Ki Pauri. Where does it go that here, Brahma himself did penance. Brahmakunda is considered the most and here bathing is of paramount. There is the temple of MA GANGA near Brahmakund and every evening there is Ganga aarti on Brahmakund.
People come early to take proper place and see Ganga aarti properly, Within short of time, thousands of people come together and mostly they are tourist. Even Mughal King Akbar had faith on the holy water of Ganga, they had regularly used Ganga water in his mansion. Even Guru Nanak also believe in holy Ganga. Pandava also came to Haridwar at the time of their exile and when Draupadi felt thirsty for water and the Ganges was far away from there so Bhima broke the hill and produced a source of water and this place is still here as Bhimgoda.
Goddess of Haridwar is Maya Devi. Formerly in front of Harmilap Hospital in Haridwar is the temple of Maya Devi. This is a very ancient Siddha Peeth and it is also mentioned in the Puranas and may be Mayadevi Temple is the oldest temple in Haridwar. That's why Haridwar name was Mayapuri long ago and after that he becomes a Haridwar. Actually, Haridwar has many more names like Hardwar who came from the name of Lord Shiva and another name is Haridwar who came from Lord Krishna.
In 1885 train lines came to Haridwar. Later the railway line started being brought from Haridwar to Dehradun. For this, a tunnel was built in the Khadkhadi but the railway line could not progress further. whenever English Men tried to build the railway line ahead, they never succeed because the debris of the hill fell on it. Even the latest technologies of English man couldn't work. After all of that, some savant suggest that there is dwell of Maa Bhadrakali and people are done Worship on mountain. After that, English man made temple on mountain and making flyover on the railway line for people, so that people will go and can do worship. After built a temple, they easily made the railway line further.
Haridwar is situated between Neel mountain and Bill mountain. Mansa Devi Temple is located on Bill Mount, It is said that Goddess had fought with demons at this place. There was a small temple here since ancient times and today there is a big temple here. Rope way is there to reach this temple. Also, Chandi Devi temple located on Neel mountain. The ropeway line is a little huge compared to Mansa Devi. There is a story that Chandi Devi Idol self appeared on Neel mountain and after that Shankaracharya does worship and made a temple of Devi.
Kushavart Ghat has his own importance in Haridwar. Here, saint Datatrye had prayed by standing on one leg. Doesn't generally make a difference whether you are a heathen of a voyager, Haridwar has a great deal to keep you immersed and make your days off a vital one. No one can tell what number of answers to your unsolved questions this spot holds!