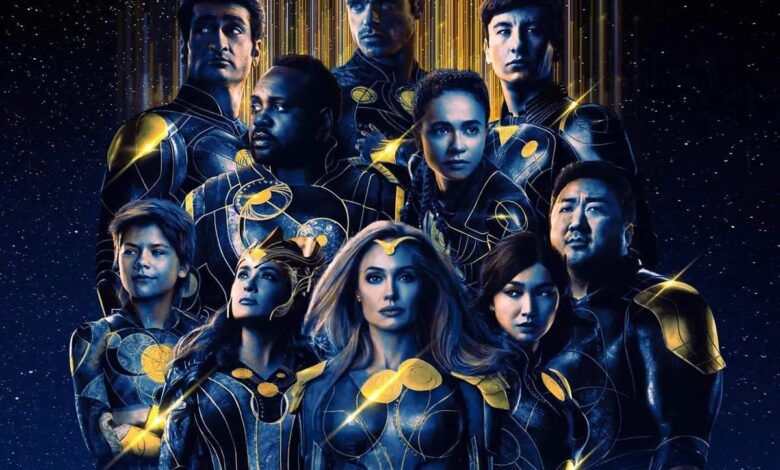 LOS ANGELES:

Directed by Oscar-winner Chloe Zhao of Nomadland fame, the Eternals soared to the top of the weekend box office chart, buoyed by mania for all things Marvel. But its $71 million debut fell just short of projections, which had the superhero film debuting to $75 million. That's a sign, perhaps, that the iffy reviews muted Eternals results or a signal that the underlying intellectual property, the story of a group of god-like extraterrestrials, didn't have the resonance of other comic book adaptations.
The film features an immortal race of powerful beings that had remained incognito among humans — until being called on to protect Earth from their evil counterparts, the Deviants. The film shows Marvel's first openly queer family and an intimate kiss between two queer characters that has led to its ban in the Gulf States of Saudi Arabia, Qatar and Kuwait.
Speaking to news.com.au, Angelina Jolie, who plays Thena in Eternals, said: "I'm sad for [those audiences]. And I'm proud of Marvel for refusing to cut those scenes out.
Through the film, Marvel successfully introduced lesser-known heroes to film fans as well. It has also spawned successful franchises with them. The film features numerous people of color, too, and the first deaf superhero in the Marvel Cinematic Universe. The queer characters include Phastos, played by Brian Tyree Henry (left), who is married to Ben — portrayed by Lebanese actor Haaz Sleiman (right) — with whom he has a son. The two also share an onscreen kiss that triggered the film's Gulf ban, and an M18 certificate in Singapore.
In fact, the kiss featuring Phastos (pictured) also ignited a slew of "review bombing" on online film and TV database IMDB, that saw the site being forced to deactivate the review section after being flooded with hundreds of single-star reviews earlier this week — only a few days before to the film began its general screening in cinemas.
Despite this, Eternals managed to score the fourth-best opening weekend for any film during the pandemic era, sliding in behind Marvel's own Black Widow ($80.3 million) and Shang-Chi and the Legend of the Ten Rings ($75.3 million) as well as Venom: Let There Be Carnage ($90 million), which was made by Sony but based on a Marvel comic creation.
But one of the main criticisms hurled against the film is that it is "too woke." According to news website Insider, review bombing — when a movie, TV show or videogame is negatively reviewed before release by people who want to impact its ratings online — is especially notable with films featuring diversity such as Star Wars the Last Jedi and Captain Marvel.
Among the film's many diversity firsts, Lauren Ridloff is the first deaf actor to play a Marvel superhero. In an interview with TechRadar she revealed how she helped to create a completely new sign language specifically for her character, Makkari. She said that it was invented so that she could sign the names of her fellow Eternals that don't exist in American Sign Language (ASL).
British-Asian actor Gemma Chan — seen here with co-star Richard Madden, who plays her Eternals love interest, Ikaris — plays the main role of Sersi, an Eternal who works at a museum in London. The film marks her second foray into the Marvel Universe after Captain Marvel. She was also part of the all-Asian cast for 2018's Crazy Rich Asians, where she played the kindhearted socialite, Astrid.
Meanwhile, Pakistani-American actor Kumail Nanjiani portrays Kingo — the first South Asian hero in a Marvel film. The character blends in on Earth by becoming a popular Bollywood film star. The film even features a Bollywood dance scene.
Having already made a name for herself in other action roles such as Lara Croft in the Tomb Raider films, Angelina Jolie's role as the acrobatic Thena appears custom-made. Nonetheless, the actor still prepared for her role by undergoing ballet training to execute her graceful movements. She also taught herself to use various weapons.
And when Marvel contacted Mexican-born Salma Hayek about a potential project, she was initially hesitant. When she heard that Oscar-winner Chloe Zhao would be helming it, she immediately said yes. "Imagine in your 50s you get a call from this director that you're crazy about, who says, 'You're going to be a superhero'," she told EW. Hayek plays Ajak, the wise and spiritual leader of the Eternals.
However, Eternals also has the ignominious distinction of being the only Marvel movie to draw a "rotten" rating on Rotten Tomatoes, with only 49% of reviews marked as positive. Audiences were also lukewarm on what Zhao cooked up, giving the film a so-so "B" CinemaScore.
Dune, Warner Bros and Legendary's adaption of Frank Herbert's sci-fi novel, came in second with $7.6 million, pushing its domestic haul to $83.9 million. A sequel to the film was officially green lit days after the first entry in the Dune-verse opened in theaters. Denis Villeneuve directs a cast that includes Timothee Chalamet, Oscar Isaac, Javier Bardem, Zendaya and Rebecca Ferguson.
MGM and United Artist Releasing's No Time to Die nabbed third place with $6.2 million, which pushes the spy film's total to $143.1 million.