Sports
Bangladesh recall Sodhi after run-out at non-striker's end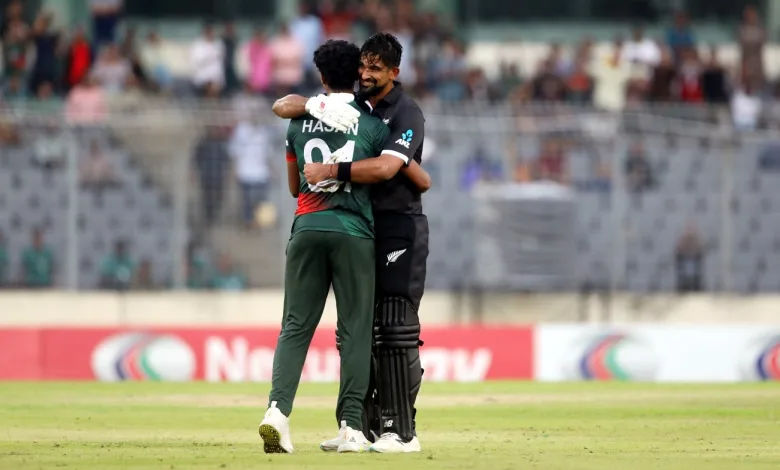 Bangladesh captain
Litton Das
recalled batter
Ish Sodhi
after fast bowler
Hasan Mahmud
had run out the New Zealand player when he left the crease early at the non-striker's end.
It was the first time that a Bangladesh cricketer attempted one of the game's most controversial modes of dismissal. Sodhi was on 17 when he was called back, but then struck three more sixes in his 35 off 39 balls.
The incident took place in the 46th over when Mahmud disturbed the bails in his bowling stride as Sodhi was backing up too far. The bowler appealed to umpire Marais Erasmus who went straight to the TV umpire. Replays showed that Sodhi was well out of his crease as Mahmud hit the stumps.
Sodhi walked off with a smile on his face but as he neared the boundary rope, Bangladesh's captain Litton went up to the umpire to tell him that he wanted to call Sodhi back. Informed of the gesture, Sodhi ran back to the middle, eventually giving Mahmud a hug.
Litton's decision could be seen as surprising considering the run-out at the non-striker's end was
destigmatised
last year by the MCC. In March 2022, the MCC moved the wording of this dismissal from Law 41 (Unfair play) to Law 38 (Run out), to remove some of the stigma around such dismissals.
"The bowler is always painted as the villain but it is a legitimate way to dismiss someone and it is the non-striker who is stealing the ground," Fraser Stewart, MCC Laws Manager, told the Times, at the time. "It is legitimate, it is a run-out and therefore it should live in the run-out section of the laws."
New Zealand finished on 254 all out in 49.2 overs.