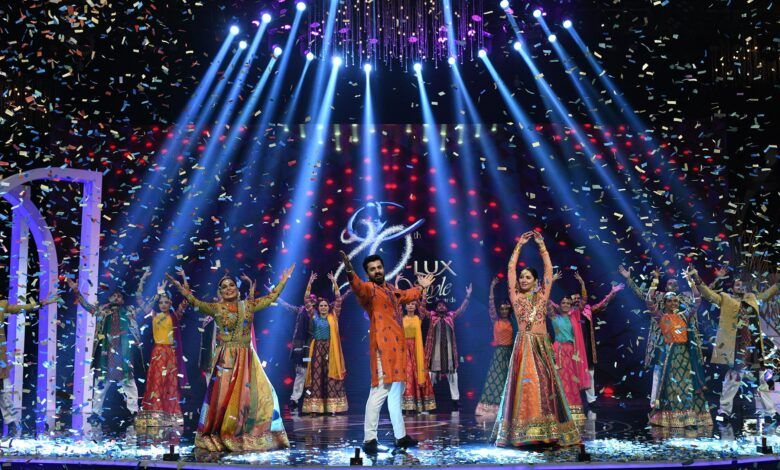 KARACHI:

Marking its 20-year journey amid a pandemic, the Lux Style Awards (LSAs) took place on Saturday in a studio space transformed to meet the show's demands. The SOP-compliant event allowed a limited set of vaccinated guests and media personnel to take up space in a night full of red carpet glam and the moves that made it memorable.
But if you arrived on time like us, and made to sit through retakes after retakes for hours, we pity you. This year's LSAs were meant to be recorded amid the live execution but nobody expected the music segment to take up four hours with the fashion and TV segment still hanging like a pendulum clock.
Music
Kicking off with Frieha Altaf's rage on the mic accompanied by Mehwish Hayat's questionable, sparkling red dress (why is no one talking about that?), and hosts Mansha Pasha and Ahmed Ali Butt's infectious humour, the music segment commenced more than an hour later than it should have. The sized-down seating was further chomped due to certain celebs opting out because they were 'not locked to win', which happens at every award show in Pakistan but looks like an utter low blow. It's 2021, Grow up!
Abbas Ali Khan, who eventually won the Singer of the Year statuette for Mein Yeh Janoun Na, was grateful for finally receiving an LSA before turning bald. "I always wished to win an LSA before losing my already diminished hairline completely. I'm grateful to the jury and my fans," he quipped on stage. Best Emerging Talent Award winner Aziz Kazi shared his thoughts on the nominations before setting foot on the podium. "People often ask me 'what is this UFO-cum-vessel like instrument you're playing?' but I'm glad the music I do, or the music people who are nominated aside from me do, are being recognised by such award shows. We're not mainstream stars; we're not selling a lot of albums. But these nominations help," he told us.
Bayaan, who reigned supreme with their song Tasveer, also told The Express Tribune before leaving the venue victorious, "We are far more in love with the stuff we make today. There is no ambiguity anymore about who we're writing for; we're writing for ourselves and if other people like it, fantastic! But there should be no competition. It's a fraternity; a win for anybody is a win for everybody."
The segment, albeit, came with its set of blunders. It took five retakes to film the grand LSA's anthem helmed by Bilal Maqsood featuring Asim Azhar, Aima Baig, Uzair Jaswal, Natasha Baig, Young Stunners Resham, Mehwish Hayat and Mahira Khan. Another noteworthy moment was the tribute paid to Farida Khanum at the end of the segment. Mahira Khan requested attendees to rise and pay a standing ovation to the veteran in honour of her contributions to music. Holding the Lifetime Achievement Award, Farida appeared on screen and thanked organisers for remembering her in these trying times.
"Alright, let's move on!" Frieha roared from the box. As the second segment started rolling, the change in the nominees from the Music category to Fashion was already underway.
The newly-introduced Change Makers Award was presented to the late Haseena Moin, playwright par excellence. A tribute to her played out, which featured celebrities like Behroze Sabzwari and Marina Khan who spoke about Haseena Moin's larger-than-life energy and how she created dreams. Her award was accepted by her niece Sadaf, who spoke of how her aunt, her father's sister, inspired so many to live out their lives with courage and independence.
Fashion
As the Fashion awards commenced, the first accolade was presented to Sarah Zulfiqar for Best Emerging Talent by model Mushk Kaleem and LSA winner Hasnain Lehri. The duo then announced Sunil Nawab winner for Best Makeup Artist. Salman Ahmed and actor Azekah Daniyel continued the segment and went on to present the Best Fashion Photographer and achievement in Fashion Pret. Achievement in Fashion Pret was won again by Generation while Najam Mahmood lifted the trophy for Best Photographer. Shehla Chatoor won Bridal Couture while Ismail Farid bagged Best Menswear.
As for the biggest awards for the category, fashion mogul HSY and the stunning Sunita Marshall took the stage. "Let's do the intros once again," Frieha intervened, "Sunita's an LSA winner, let's include that." As the intro for the presenters were reshot, HSY corrected the hosts, saying, "Umm, Sunita's not an LSA winner, so that wouldn't be right. I mean she definitely should have been one."
Mushk Kaleem, in a not so surprising win, bagged the trophy for Best Female, "My mom – who never thought I would make it. Well, mom, the joke's on you, I made it!" she said in her acceptance speech.
Sachal Afzal won the Best Male model. He thanked the jury by saying, "This means a lot to me. All my hard work, all my struggle to bring change has been justified today." Bunto Kazmi was honoured with Lifetime Achievement Award in Fashion. The awards were finally rolling and it felt as if we might get done with the night sooner than we had anticipated – but boy were we wrong.
TV
Around 11:30pm, the last and the longest finally began. The TV category awards kicked off with Mansha and Ahmed back on stage with Imran Ashraf announcing the first set of nominations for Best TV Drama writer. As he took the centre stage, Mansha requested the Ranjha Ranjha Kardi star to announce the winner. "Can I name anyone? They haven't given me a card," he quipped as the audience broke into laughter. Frieha, however, wasn't pleased about it. "Can someone give Imran his card? What is going on? Where's Sadiq? Why's everyone on a break!" she called out. After a few exasperated minutes, Ashraf was informed of the winner and Umera Ahmed won the award for Alif. Her award was accepted by producer Sana Shahnawaz.
"There's a green Nomi Ansari jacket in my room, can someone fetch it, please?" Ahmed then announced. "I'll just put it on here." While his strange request confused few, it soon became clearer the host was readying himself for a performance on Haye Dil, the popular dance number from Parey Hut Love. "Where's his prop!?" Frieha inquired. "Honestly, it's just one item." On Frieha's cue, Ahmed grooved as the music boomed and we soon saw the stage fill up with backup dancers and an energetic Sheheryar Munawar. The actor was later joined by Mahira Khan, who filled Maya Ali's shoes rather spectacularly! The performance concluded and Frieha's voice echoed, "Let's do it again! Brilliant work, you guys." And the camera rolled once more.
The awards then moved to the Best Actor Award – Critics. While Bilal Abbas bagged the much-deserved award for Best Actor Male for Pyaar Ke Sadqay, his co-star Yumna Zaidi, who was nominated twice in the same category, won Best Actor Female. As she took the stage, Yumna whispered to the presenters, "For?" to which Ali Rehman Khan said, "Oh, Best Actor Female – Critics." Yumna then replied, "No, I mean for what show?" At this point, Ahmed chimed in and quipped, "Ladies and Gentlemen, this is what happens when you are nominated for more than one drama!" The actor joined others as she thanked her co-stars and crew for making her Mahjabeen.
Best Emerging Talent was handed over to Adnan Samad Khan. As he made his way to the podium to pick his accolade, he was cheered on by his fellow peers and a few congratulatory whistles by none other than Imran Ashraf! After Samad took his seat, the lights dimmed once again and we saw Mahira, adorning a heavily embellished green outfit for her next performance. The Verna star looked graceful as ever as she moved effortlessly to the music. "Mop! Clean the stage up please," Frieha screamed as Khan's performance came to a conclusion. "Let's roll it once again." the PR mogul said on the mic.
Once the performances were done, the final set of awards began. Best TV Play (Viewer's Choice) was won by Ehd-e-Wafa, while in a surprising win, the Best TV Actor (Viewer's Choice) – was bagged by Danish Taimoor for Deewangi. Yumna, once again, took the podium as she thanked fans for winning Best Actor Female (Viewer's Choice) for Pyaar Ke Sadqay. Rahat Fateh Ali Khan won Best Original Soundtrack (Viewers Choice) for singing and composing Ehd-e-Wafa Ke Naam.
While the commitment to arrange an extravaganza in trying times is thoroughly commendable, the show at large was underprepared and under-rehearsed, turning a starry night of celebration into a series of never-ending retakes, something that has not happened in the show's recent history.
Have something to add to the story? Share it in the comments below.